Free phonics games for kids
Print Them Here!
Printing Tip: right click your mouse and click Save Target As into a file on your own computer. All the files are pdf documents and most computers will open these automatically.
Click the links below to view all the free phonics printables! New printables and articles are added on a regular basis - so RSS (that's the NEW way to bookmark a site - see the white box in the navigation bar)
Some of my favourite printables include:
Rhyming Pairs: This is a set of 36 pictures to play rhyming pairs. Delightful graphics help make this is a great first game to encourage rhyming. I also use these to play a game of silly sentences with sight word flash cards. Put all the sight words face up on the floor, along with 7 or 8 rhyming picture cards. Encourage your child to make 'silly sentences' with the sight words and rhyming cards.
Sight Word Bingo Games: These come with printed sentence strips for practice using these words in context. These are cool games and very effective. They consist of 4 progressive Sight Word Bingo games, each with 10 high frequency words and covers all 40 of the Pre-Primer sight words.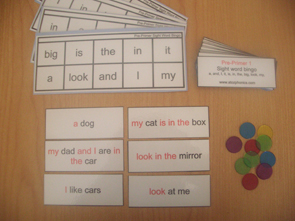 Pre-Primer Sight Word Bingo 2: a, and, I, it, is, in, the, big, look, my.
Pre-Primer Sight Word Bingo 2: contains the words: go, me, not, we, said, to, you, little, help, where.
Pre-Primer Sight Word Bingo 3: contains the words: can, find, here, yellow, run, see, red, one, for, up.
Pre-Primer Sight Word Bingo 4: contains the words: away, blue, come, down, funny, jump, make, play, three, two.
Remember....I add new free phonics games for kids on a regular basis! In the meantime, take time out to visit Sites for Teachers. and Sites for Parents A directory of 100's of quality teacher resource sites.




view all our free phonics games for kids



school clipart by lisa www.countryclipart.com